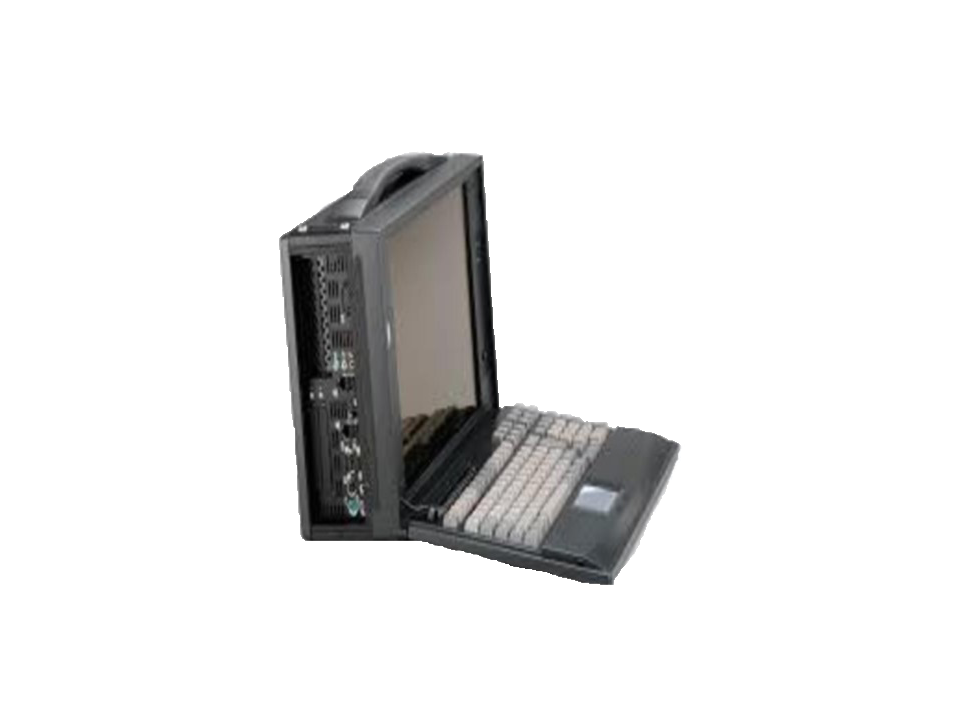 FLP-200 Portable Machine for Militaru, AV Industry, Oil Gas, Medical, etc
ราคา 0บาท
รายละเอียด:
รายละเอียด: FLP-200
Processor : Intel Core Duo Processors 2.0GHz
Expansion : 2xPCI Full Length Drive: (Optional 2xSATA Removable HD)
Dimension: 415x278x164 mm(WxHxD)
16.3x10.9x6.5inch
Typical Applications
Compact Size Lightweight Design
High brightness 15 TFT LCD display
Offer 2x Full-Size PCI-32 Slots , 1x Mini PCI
anti-reflection tempered strengthen glass protechtion LCD monitor
Feature
FLF-200 is the first industry notebook form factor computer with multi-slot expansion built-in . The highly mobile unit boasts battery cappacity that is 3 times the normal notebook to accommodate data acquisition and test & measurement peripheral cards. With high memory capacity, dual -core processing power and multi-drive capability, the system outperform ,out -maneuver any portable computer in th market today
FLP-200 was designed with high mobility in mind with the option to install standard PCI peripheral cards . Afirst in the portable design ,our unque design offer latest dual -core processor and PCI expansion while maintaining a fuction of a notebook computer. With the built -in battery power ,the system can offers a high 100W output in asamll form factor that cannot be duplicated else where in the market .The system offers and exceptional value for customer a field work environment that are without power source and small form factor is amust. The integrated 15 TFT LCD and keyboard /touchpad add to the computing experience
Engineered to be the leader in portable market, the FLP-200 integrates 2 high capacity Li-ion battery pack into the system the smart battery system is light in weight and the batter are hot swappable to allow continunous replenishing of power. The system can operate in a both battery power and AC power simultaneously or independently.The FLP-200 can operate for 4+hour when fully charged and recharging the battery will take half the time. Customer can charge and operate the unit at the same time during operation seamlessly. The battery system provides constant monitoring of battery states and specialized softwore is provided to offer system management that can be tailored to shutdown, hibernate or run specific user assigned application when the battery is low.
Expansion is what set the FLP200 apart from the standard note book. The system offers 2 full lenght pCI expansion slot that will operate with majority of the data and testing pweripheral cards in the market. With the low power consumption designed throughout the system, we are able to reserve maximum amount for the add-in cards without hindering the battery mobility time . Accommodating the expansion option are buit -in dual LAN port and DVD -RW drive. Astandard 100 GB (7200RPM) drive is offer in the system with optional dual hot-swappable tray for RAID configuration . The unique size ,expansion, battery portability and processing power included in the system offers a unparallel of multi-slot mobile computing. No longer is a power outlet required and nolonger is a sacrifice between mobility and processing power be needed. The light weight and rugged FLP-200 is here to provide what has been missing in the market.
Specifications
Model No.FLP-200
CPU type Intel Core Duo Processors T2500 2.0GHz
Chipset Intel 945GM Video Processor
Display 15 TFT LCD , 1024 x 768 , 180 nits brightness
Anti-reflection tempered strengthen glass
VGA Intel 945GM Integrated Function
Expansion slot 2x PCI Full Length @ 32bit/33MHz
1x Mini PCI Connector
Memory 2 GB DDR2 667MHz Memory
Hard Disk Drive 1x100GB IDE2.5
Additional Drives (Optional 2x2.5 " SATA Removable HD)
CDROM 1xDVD-RW Optical Slim Drive
Floppy 1xSlim 1.44 MB FDD
Interfaces
2xPCI Full Length @32bit/33MHz
1xMini-PCI Connector
Firewire 400 IEEE 1394a
4xUSB 2.0
Audio Line-in , Line-out, Micrphone
(Built-in Speaker )
Networking 1xRJ45 for 10/100 Base TX
1xRJ45 for 10/100/1000 Base Tx
Keyboard/Mouse Mechanical type in 108 keys with Touch pad
Case Material External chassis-flame retardant ABS plastic
Internal aluminum alloy chassis
Dimension 415 x278 x164 mm (WxHxD)
16.3"x10.9"x6.5"
Weight 9 kgs(20bs)
Approval CE/FCC Class B, RoHS
Power OUtput
100W Output Rating
8.25 Amps Current
Output: 12V @7A:5V&3.3V @10A; -12V @0.3A
190 Watt-hours Smart Packs Battery (HOt-Swappable)
Simultaneous Charging Level III
AC-DC Power Adapter (18V,5.56A)
Software monitoring /control software (Microsoft Windows OS)
Battery operation Time
Idle: 4.5 Hour (*based on system only with LCD backlight on in Windows OS desktopX
Full Load: 3.7 Hour (*based on sytem only with LCD back
light on and both CPU core on full load and 1HDd performing
sequential reading in Windows(OS)
Charging : 2.5 Hour (From Empty to Full)
Environment Specification
Operation Temperature 0°C -60°C(32Ddeg;F-140°F)
Storage Temperature- 20&deq;C-80°C (68°F-176°F)
Relative Humidity 10%-90% (non-condensing )
Bags
Carry-On
Tow Case
Additional Ordering Parts
Smart Battery Pack (14.4V@6.6A)
External Battery Charger (110V220V)
*Complimentary items are not under warraty