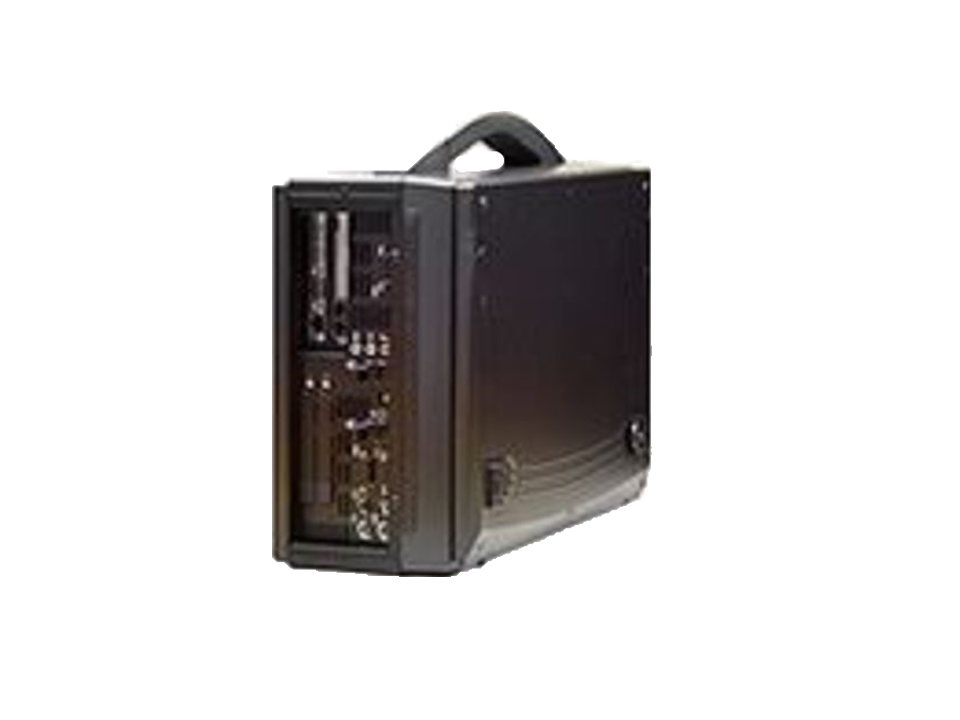 SPS-152 Portable Machine for Military , AV Industry , Oil Gas Medical etc
ราคา 0บาท
รายละเอียด:
รายละเอียด SPS-152
Processor: Intel Core Duo Processors T2500 2.0GHz
Drive : 1 x Slim DVD -RW
Dimension: 415mm x 278 mmx158mm(WxHxD)
Typical Applications
Compact Size Lightweight Design
High brightess 15 TFT LCD display
Offer 2x Full-Size PCI 32 Slots ,1xMini PCI
Anti-reflection tempered strengthen glass protechtion LCD monitor
Feature
Defined as the new millennium solution for rugged portables , the SPS ,performs high -impact , more slim & powerful features , this all -in-one model is the pragmatic solution for any pure mobile application. It is the sallest lunchbox computer on the market accommodating a 15 " Super TFT LCD screen for a truly satisfying viewing experience
The SPS is a well design compact computing machine that is both nimble as well as rugged. It will serve your needs for both expansion as well as performance. An important aspect of the SPS is the concept of standardizations , which means all components that you can find offf the shelf or proprietary designed will fit into the SPS. If the peripheral is designed according to industr standard for interconnectivity then it will fit. With that in mind , we will layout and identify each of the component . In this section you can find each component of the SPS with respect to its purpose and usage.
Specifications
Model No. SPS152-A5US0
CPU type Intel core Duo Processors T2500 2.0GHz
Chipset Intel 945GM
Display 15 TFT LCD , 10240 x768 180 nits brightness
Anti-reflection tempered strengthen glass
VGA Intel 945GM Integrated Function
Expansion slot 2x Full -Size PCI Slots , 1xMini PCI (on board)
Memory 2GB DDR SDRAM
Hard Disk Drive 1x100GB IDE 2.5
Additional Drives 2 x 2.5 " HDD Removable trays
CDROM 1xSlim DVD-RW
Floppy 1x Slim 1.44 MB FDD
Interfaces
4xUSB 1xDSUB 15 VGA Connector
1XDSUB 15VGA connector
2XDSUB 9 RS232 Connector
PS2 Type KB/Mouse Connector
Audio Line-in, Line-Out, Microphone
(Built-in speaker)
Networking 1RJ45 for 10/100 Base Tx
1x RJ45 for 10/100/1000 Base Tx
Keyboard/Mouse Mechanical type in 108 keys with Touch pad
PSU or Battery 160W
Case Material External Chassis -flame retardant ABS plastic
Internal aluminum alloy chassis
Dimension 415 x278x158 mm(WxHxD)
16 3/8" x11 3/8" x6 3/8"
Weight 8 kgs (17.64 Ibs)
Approval CE/FCC Class B. RoHS
Enviroment specification
Operating Temperature 0°c -60 °C (32°F-140degF)
Storage Temperature -20°:C (68°F-176°F)
Relative Humidity 10% -90% (non-condensing)
Bags
Carry-Pm
Tow Case
*complimentary items are not under warranty
Close Window