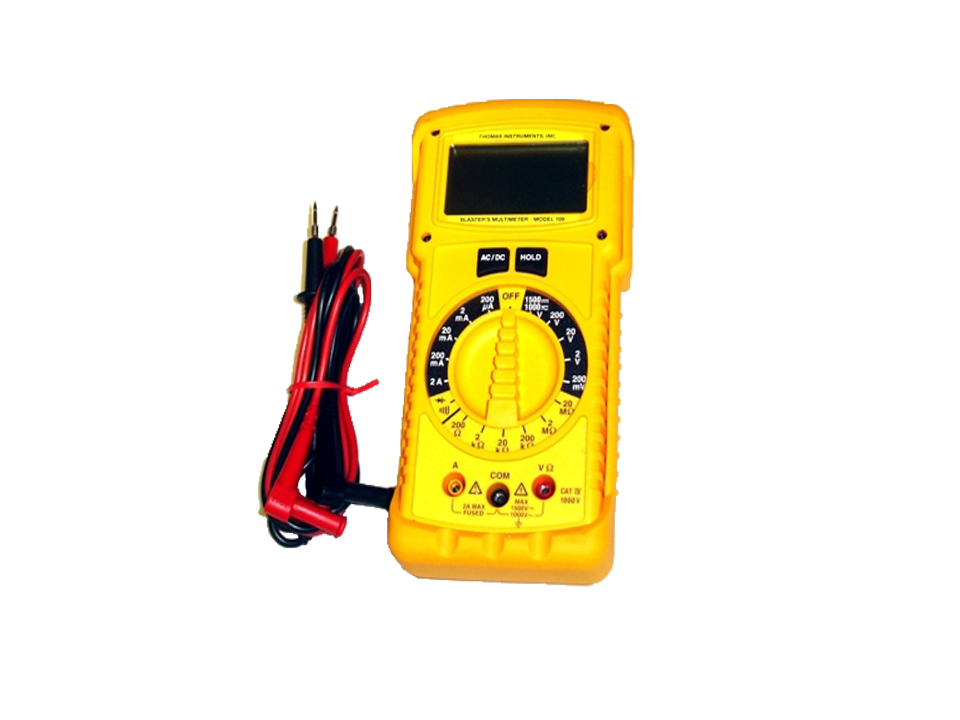 Blaster s Multimeter Model 109
ราคา 0บาท
รายละเอียด:
The 109 is designed for professional use in harsh environments. The meter is unusually rugged and reliable in everyday heavy use applications. The meter is made using waterproof construction to prevent dirt, grime and moisture from entering the case and causing inaccurate readings or damaging shorts. Built of tough, fire-retardant thermoplastic resistant to grease and chemical spills, with all sensitive components shock-mounted for a drop resistant to at least eight feet.
GENERAL SPECIFICATIONS
Weight: 20 oz. (.56kg)Size: 3.9 x 7.2 x 2(99x182x51 mm)Seal: Dust and Damp Weather Proof Weather Proof MSHA Approved: NORanges: 8 RangeBattery Type 9V NEDA 1604/1604ACurrent Output: <4mA
Display: 3-1/2 digit LCD, 1999 counts, with annunciators and menu features
Polarity Indication: Automatic
Input overload indication: 1
Low Battery Indication: Battery < 50 hours battery life remain, accuracy is no longer guaranteed
Display Update Rate: 2.5/sec, nominal
Oper. Temp.: 0°C to +50 °C, (< 75 % R.H.)
Storage Temp.: -20°C to 60°C, 0 to 80 % RH, battery removed
Temperature coefficient: 0.1 x (spec. accuracy)/°C (0° to 18°C and 28° to 50°C) all functions and ranges except for mVDC0.3 x (spec. accuracy)/°C (0° to 18°C and 28° to 50°C) for mVDC
Power: Standard 9 V battery, NEDA 1604, JIS 006P,IEC 6F22Auto Power-Down Meter powers down after approx. 30 min. of inactivity.
Fuse: F 2 A/1500 V fuse (8 mm x 65 mm), I.R. 30 kA - Amprobe p/n FP700
Dimensions: (H x W x D) 200 x 102 x 59 mm (7.9 in x 4.0 in x 2.3 in)Weight (incl. battery) 642 g (20 oz)